Pulp's delicious drink choices
Pulp Original

100% fruity smoothies
This is the stuff that made us famous in the first place. Taste a little bit of summer and sunshine in a cup – available all year long! Rename the drinks to reflect your event, launch, or product.
Boom Boom Pow
Guava & Passionfruit. Tangy & Sweet.
Stir it Up
Mango, Strawberry – stir it, stir it, stir it together.
4th of July
Blueberry, Strawberry, Raspberry and Blackberry = rockets red glare.
Dunes of the Cape
Pineapple & Banana
Brazil '66
Mango, Pineapple, and Banana… magic in a cup – our most popular drink.
The Strawb
Strawberry and Banana – a classic
Babaloo
Acai (Amazon Cherry), Pomegranate, Blueberry and Blackberry. Antioxident heaven.
Rise and Shine
Peach, Pear, and Apricot… Summer in a cup.
Hey Good Lookin
Pineapple, Guava, Banana, Orange.
Friday on my mind
Peach lemonade. Refreshment at its finest.
Instant Karma
Strawberry, Lime, Ginger
All Summer Long
Cherry & Cranberry
Green Brazil
Mango, Pineapple, Banana & Kale.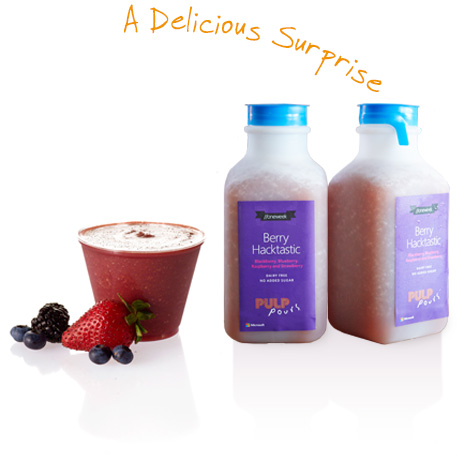 Pulp Signature
Cocktails

Your favorite smoothie as a cocktail!
It's a hit! Everyone is raving about Pulp Specialty Cocktails. Pulp smoothies paired with choice liquors…OMG! Take your party to the next level and really wow them with Pulp Specialty Cocktails.
Escape
Pineapple, Coconut, Banana with Rum.
Fly By Night
Acai, Pomegranate, Blackberry, Blueberry with Tequila.
Burning Down the House
Blackberry, Blueberry, Raspberry, Strawberry + Vodka
Breakout
Mango, Pineapple, Banana & Dark Rum.
Friday On My Mind
Peach Lemonade With Vodka. The weekend, any day of the week.
Margaritaville
Lime Margaritas! I blew out my flip-flop…
Kiss Me Baby
Guava, Passionfruit + Vodka. A tangy kiss you'll never forget.
Want something really special? Let us create a specialty cocktail for any event – holiday party, summer BBQ, you name it! We will create a one of kind, unbelievable cocktail that will be the guaranteed hit of the party.
Give us a jingle on +1-800-542-1310 (Seattle) or +1-800-379-0126 (L.A.) and we can discuss the options.
Café Pulp

Coffees and Chai Teas
We have a complete line of frozen coffee drinks and frozen chai drinks with the great taste and quality you've come to expect from Pulp Catering. Made with the best stuff – 100% Colombian coffee, Ghirardelli chocolate, imported spices and black teas. There is nothing like having a creamy coffee or chai smoothie with some zing at the moment you need it.
Cherish
Truly Latte! Dark Roast Colombian Coffee with Vanilla and Cream (non dairy!)
Love and Happiness
The best Mocha ever… Rich Ghirardelli Cocoa and Deep, Dark Roast Colombian Coffee.
Bombay Bicycle Club
Chai Joy – Cardamom, ginger with vanilla and black tea. Salaam!